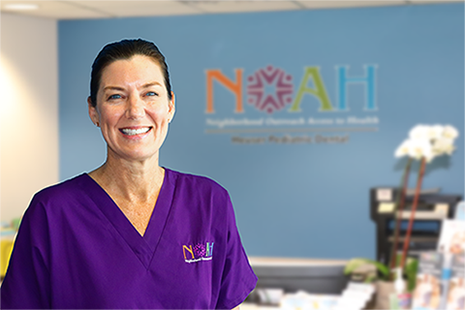 5 Frequent Questions Parents Ask about Pediatric Dentistry
Did you know that maternal anxiety is the #1 predictor of child anxiety at the dentist? Attention all caregivers – show No Fear! In fact, don't wait for you or your child to be ready to go to the dentist. A pediatric dentist is no different than a pediatrician – we see all children, regardless of age or behavior. Let me answer a few common questions every care giver needs to know about pediatric dentistry.
1 – Is my child old enough to go to the Dentist?
Children need a well-check with their pediatric dentist by their 1st birthday. We accept patients of any age from 0 – 20 though we recommend the first visit between the eruption of the first tooth and no later than the first birthday. Just like your child sees their pediatrician for well visits, it is important to start dental visits early.
2 – What is going to happen during the 1st visit?
During the infant well check, the dentist will:
– Design a home care routine that fits your life.
– Evaluate your child's growth.
– Discuss nutrition, pacifier or thumb habits.
Above all this visit is to answer parent questions and clear up confusion about how to take care of teeth!
3 – How do I prepare my child for their 1st visit?
Infants and toddlers do not require much preparation for the first visit. It helps if a parent has been brushing 2 x day prior to the visit but don't worry if you haven't! Older children can be told that they will receive pictures, cleaning and examination of their teeth. We can accommodate all children regardless of their anxiety levels. Please contact us directly if you need a Social Story in advance for children with special needs.
4 – How often should my child be seen for cleanings and exams?
Children are constantly growing and their needs change rapidly. For this reason we will see them at least 2 x year.
5 – Can I accompany my child in the hygiene area/treatment area?
Yes! We welcome a parent to join us for our dental visits. Unlike other dental offices, we encourage parents to participate. A parent is always welcome in the treatment room even if your child needs sedation!
The mouth is the gateway to the body, noting poor oral health can impact your overall health. At NOAH, we promote an integrated model of care that treats the whole person. Both medical, dental and behavioral health work together to promote overall wellness. Always remember healthy smiles equals healthy bodies and minds! Our Care Team at NOAH are here to help you create and manage your healthy lifestyle habits. Need help setting or sticking to your goals? Request a dental appointment today! #pediatricdental #nutrition #dentalhygiene

https://noahhelps.org/wp-content/uploads/2018/02/henson_heuser_background_465.png
310
465
admin
https://www.noahhelps.org/wp-content/uploads/2019/06/NOAH_LOGO_CMYK_shadow_325_weblogo.png
admin
2018-02-07 15:09:00
2019-09-16 14:56:34
5 Frequent Questions Parents Ask about Pediatric Dentistry