5 Creative Ways to Celebrate Boss's Day in 2020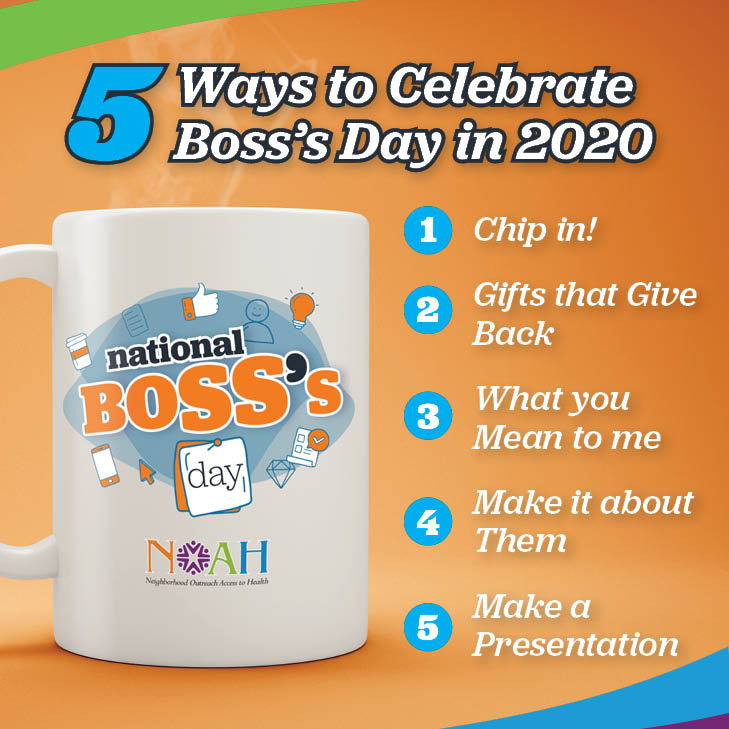 On October 16th show a little appreciation to your boss for Boss's Day. This will go a long way for a boss who works long hours and supports your team. Plus, as an added bonus, showing kindness and gratitude towards others can benefit your health as well!
During 2020, though, when not everyone is physically at the office every day, making sure your boss feels the love from the entire team may take a little creativity.
Try some of these to show your boss you appreciate them:
Chip In – Go in with coworkers to celebrate. Buy a card for everyone to sign or get a group gift. Try buying a gift that your boss needs for their office or something personal like flowers or a gift card.
Gifts that Give Back – If your boss is hard to buy for or would rather give away all their gifts to others, they may love having a donation made in their name. Knowing what organizations or causes they support will make this easy, and everyone can chip in. If the charity can send a note or acknowledgement for the donation, share that with your boss. Or make your own card stating that a donation was made in their name.
What You Mean to Me – Write – in an email or a card – what your boss means to you. If you've been working together for a long time, look back on your growth together. If you are newer to the team, thank them for seeing the potential in you and being the kind of boss you want to work for.
Make it About Them – Does your boss love a kind of food the rest of the team doesn't? Today your boss gets to pick! Maybe it is the kind of music playing in the office or shop, or you attend an online presentation they are excited about. Whatever your boss really enjoys, let them pick today. You can also offer to help with something. By letting them know you see just how much work they do, you can make their job or a project a little easier.
Make a Presentation – Use whatever creative skills you have and make a video or presentation about how great your boss is. It can be pictures, quotes from everyone, funny stories, and more. Put it to music and make it part of a bigger celebration, or just share it with the team to watch on their own.
Whatever you do to celebrate Boss's Day, make it personal. If gifts make your boss uncomfortable, or some team members can't chip in, that okay. Celebrate it in a way that works for everyone and is something fun and positive.
https://noahhelps.org/wp-content/uploads/2020/10/5-ways-to-celebrate-bosss-day-in-2020_Oct.png
729
729
Katy Reeve
https://www.noahhelps.org/wp-content/uploads/2019/06/NOAH_LOGO_CMYK_shadow_325_weblogo.png
Katy Reeve
2020-10-12 10:05:00
2020-10-13 10:59:34
5 Creative Ways to Celebrate Boss's Day in 2020