At NOAH, we have a deep and abiding commitment to making it easy for you be your healthiest. This simple, powerful idea helps us stay focused on what's most important; living up to the trust you place in us each day.
With daily news about the rapid spread of COVID-19, taking care of your health may seem more  complicated than ever and perhaps even frightening. Please know that every one of us at NOAH is committed to helping you, your family and our community stay healthy and safe.
Of course, with all that's going on, we are seeing record-levels of patient interaction right now. We recognize that means at times we may not be able to pick up your phone call as quickly as usual. Please know that our dedicated patient teams are working incredibly hard to be available to you, as quickly as possible. We appreciate your patience if you do experience longer-than-usual wait times.
We believe deeply in the power of healing and of working together to be safe and healthy. We can all do our parts by washing our hands frequently, staying home if sick and practicing social distancing.
Frequently Asked Questions
What is COVID-19 (Coronavirus)?
COVID-19 is a respiratory illness that is transmitted through droplets when an infected person coughs or sneezes. Getting sick from these droplets requires proximity to an infected person, or touching a surface that might have a droplet, then touching your mouth, nose and possibly eyes. You are at low risk of contracting the virus unless you have recently traveled to an outbreak site or have been in close contact with a person who has tested positive for the virus. More information about COVID-19 can be found on the CDC website.
What are the symptoms of COVID-19?
Symptoms of COVID-19 may appear 2-14 days after exposure. Primary symptoms of the virus include:
Fever
Dry cough
Shortness of breath
In 80% of patients, COVID-19 causes only mild cold symptoms. The elderly, and those with pre-existing medical conditions appear to be more vulnerable to the virus. People at higher risk for serious illness from COVID-19 should contact their health care provider early, even if their illness is mild.
Is COVID-19 contagious?
Yes. There is currently no vaccine to prevent COVID-19. The best way to prevent illness is to avoid being exposed to this virus. You can significantly reduce your risk of contracting COVID-19 by frequently washing your hands.
How does COVID-19 spread?
The virus is spread mainly through droplets when an infected person coughs or sneezes.
It is also possible for someone to get COVID-19 by touching a contaminated surface or object, and then touching their own mouth, nose or possibly their eyes.
How can I protect myself?
Clean your hands frequently.
Wash your hands often with soap and water for at least 20 seconds, especially after you have been in a public place, or after blowing your nose, coughing or sneezing.
If soap and water are not readily available, use a hand sanitizer that contains at least 60% alcohol. Cover all surfaces of your hands and rub them together until they feel dry.
Avoid touching your eyes, nose and mouth with unwashed hands.
Additional ways to protect yourself:
As of now, masks are not recommended to protect against COVID-19. Masks should only be worn by some health care professionals and patients being screened and receiving care for COVID-19, to protect other patients and health care workers.
How can I protect others?
These are ways that you can protect others from contracting COVID-19:
Stay home if you're sick.
Cover coughs and sneezes.
Clean and disinfect frequently touched surfaces daily.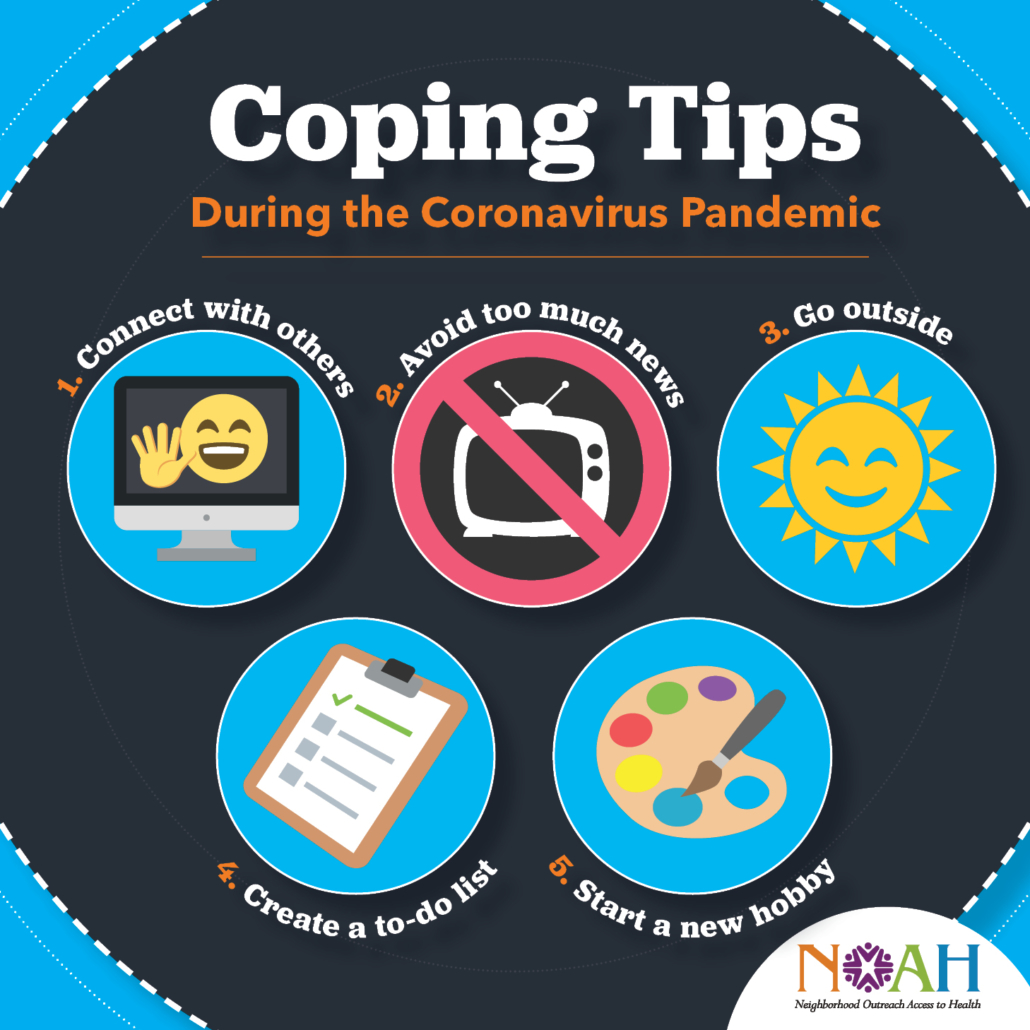 For the first time ever, we've been asked to practice social distancing, self-quarantine and even shelter in place. These changes affect the way we work, socialize and live. Until our circumstances return to "normal" we have a few tips to help you cope with these temporary changes.
https://noahhelps.org/wp-content/uploads/2020/04/CTDtCP_350x350px_NOAH_0199_040120.jpg
1458
1458
admin
https://www.noahhelps.org/wp-content/uploads/2019/06/NOAH_LOGO_CMYK_shadow_325_weblogo.png
admin
2020-04-02 17:21:29
2020-04-02 17:21:46
Coping Tips During the Coronavirus Pandemic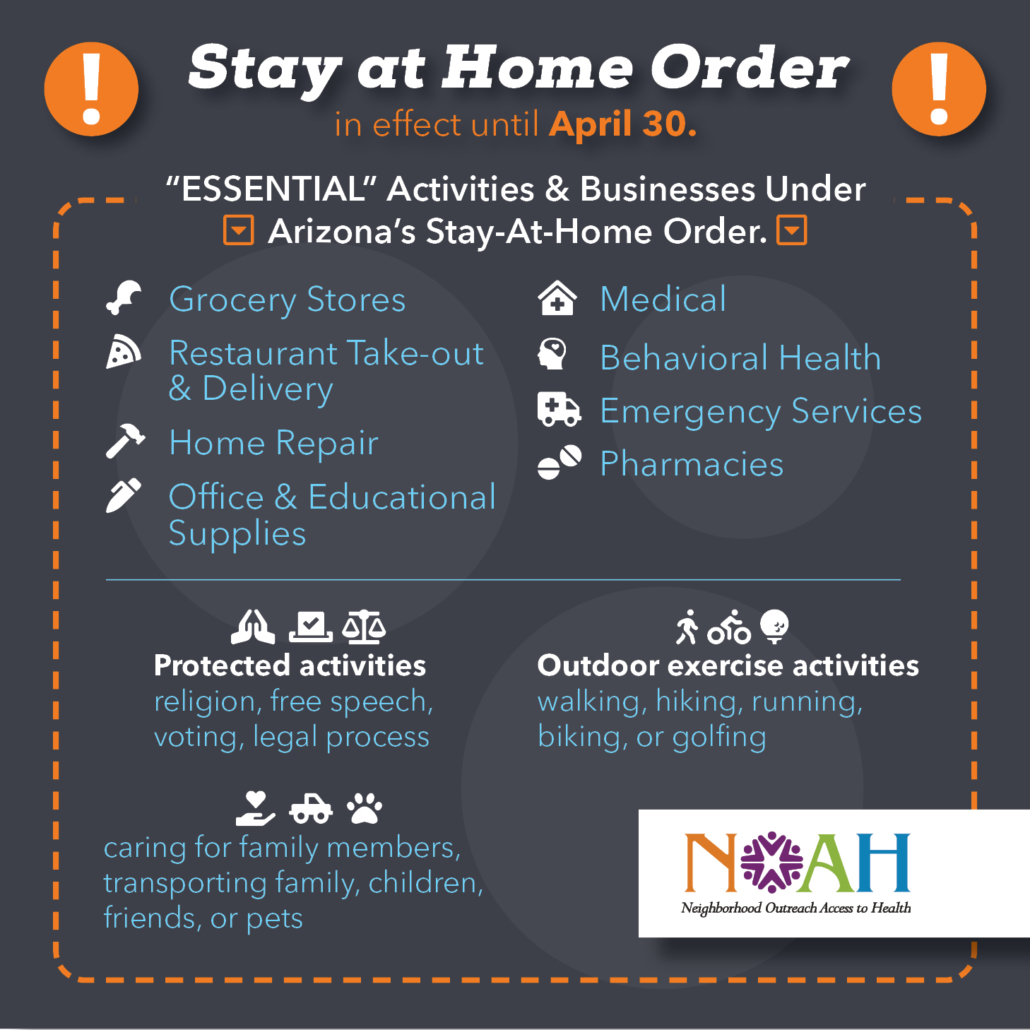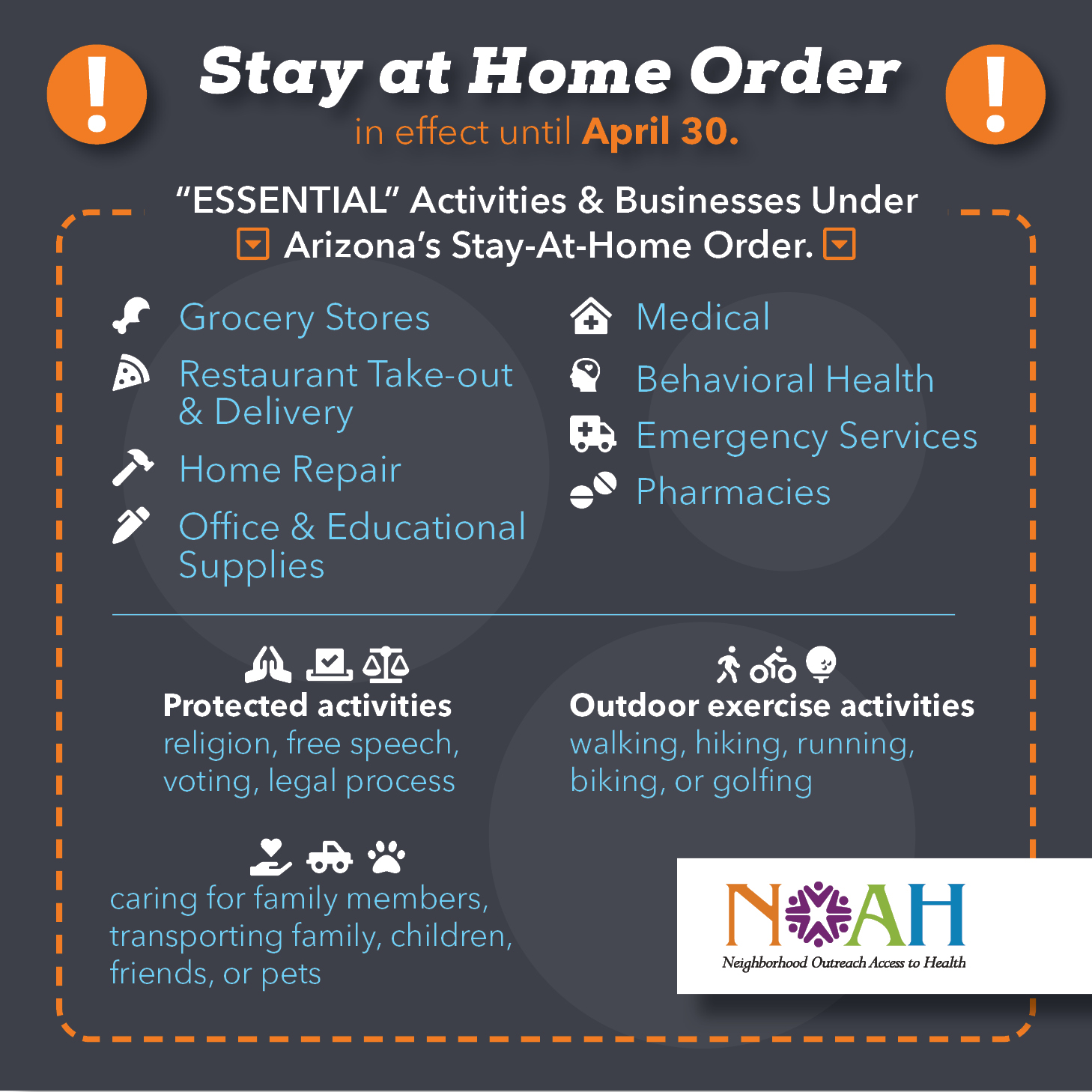 Governor Ducey announced the "Stay Home, Stay Healthy, Stay Connected" order which goes into effect Thursday, March 31st at 5pm. So you might be asking, "Does my Health Center have to close?" We are REQUIRED to stay open because we are an "Essential Service" provider. That means you can still receive your health care during this time.
https://noahhelps.org/wp-content/uploads/2020/03/Stay-At-Home-Order_Social_Media_Post_350x350px.jpg
1458
1458
admin
https://www.noahhelps.org/wp-content/uploads/2019/06/NOAH_LOGO_CMYK_shadow_325_weblogo.png
admin
2020-03-31 16:34:00
2020-03-31 16:34:02
Stay At Home Order Issued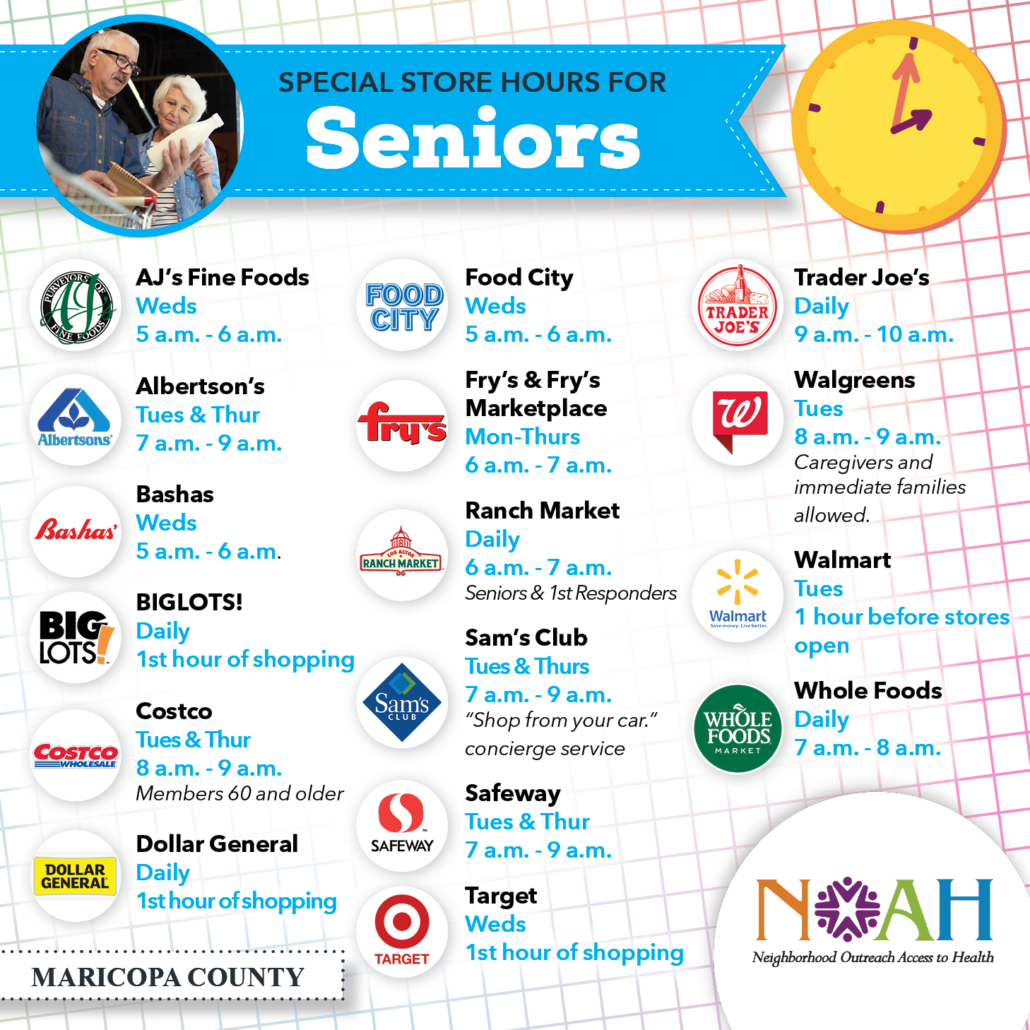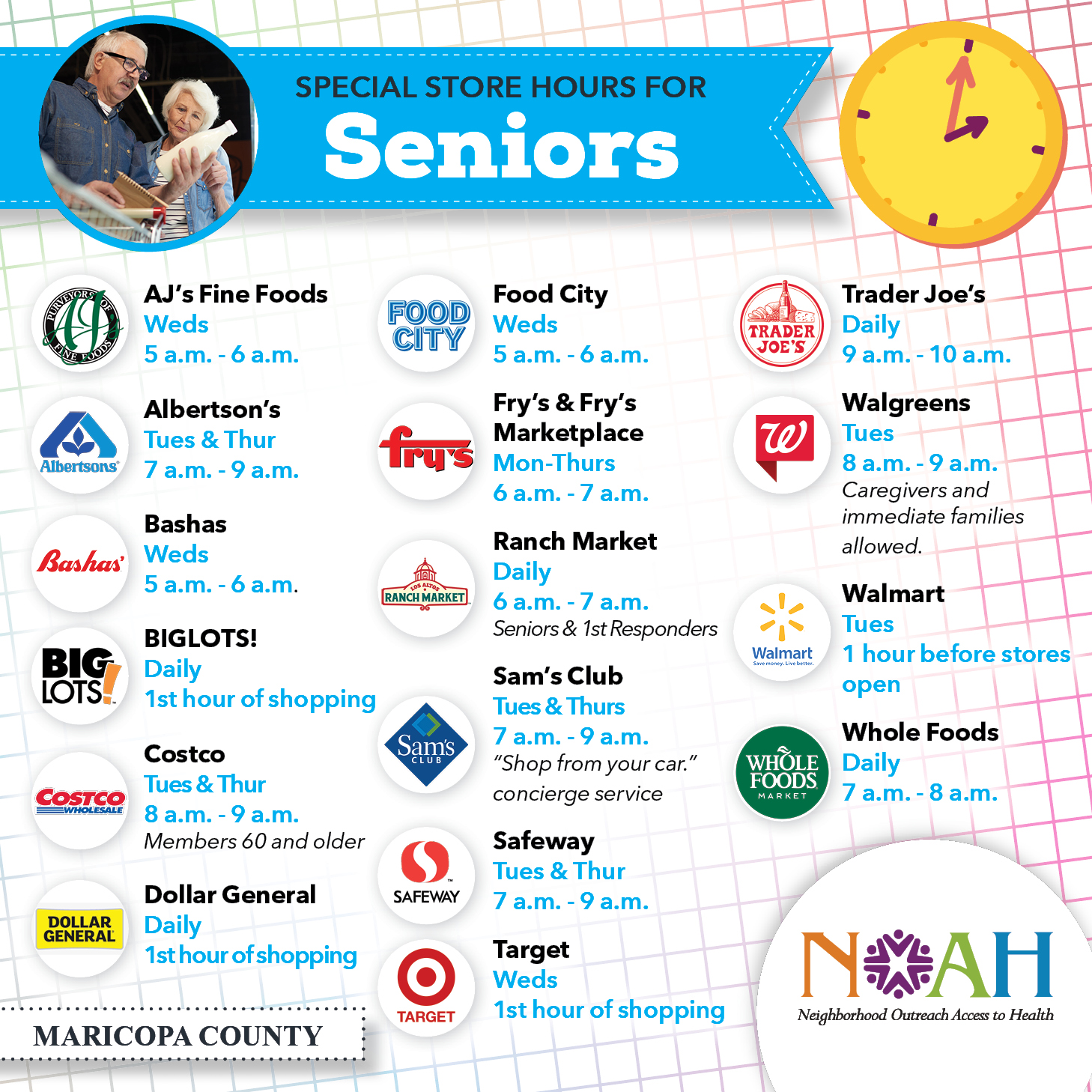 Check out these special store hours that have been created just…
https://noahhelps.org/wp-content/uploads/2020/03/Special-Store-Hours-for-Senior-Graphics_350x350px_NOAH_0194.jpg
1458
1458
admin
https://www.noahhelps.org/wp-content/uploads/2019/06/NOAH_LOGO_CMYK_shadow_325_weblogo.png
admin
2020-03-31 16:22:01
2020-03-31 16:22:03
Special Store Hours for Seniors During Stay-At-Home