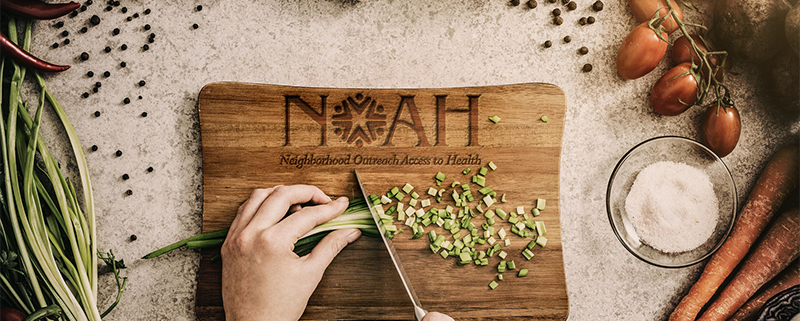 Get to Know Your Nutrition Team!
Today is #NationalRegisteredDietitianNutritionist Day and we would like to introduce you to our NOAH Nutrition Team.
Kristal Burton
I'm Kristal Burton. I have been a Registered Dietitian Nutritionist (RDN) and a Certified Diabetic Educator (CDE) for 5 years and I have been with NOAH for nearly 3 years. I am currently working toward my Masters in Human Nutrition from Arizona State University.
Favorite part about working at NOAH: We have wonderful patients here at NOAH and there is a lot of variety and diversity, which makes coming to work each day interesting and provides a wonderful challenge.
Favorite food(s): I can't live without bread. Eggs are my favorite quick dinner when I'm tired and I want something quick and yummy. I love adding vegetables to just about everything because they add such beautiful color and variety to keep meals fun and delicious.
Favorite hobbies: I am a distance runner. I've completed 2 full marathons, 3 half marathons and a handful of 5K's and 10K's. My two amazing kids are signed up for their first 5K (3.1 mile) race so we can run it together as a family. This year I'm branching out to tackle my first sprint triathlon.
Random fact about me: I lived in Buenos Aires, Argentina for 6 months after high school studying interior design at a small university. My roommate was studying nutrition. I realized that I had no interest in interior design but that the nutrition my roommate was learning seemed far more interesting. When I returned to the states, I changed my major to nutrition. The rest is history.
Erinn Gregory
I'm Erinn Gregory. I've been a Registered Dietitian Nutritionist (RDN) for 3 years but have worked in the health and wellness field for over 5 years. I recently started working with NOAH as of January 2018.
Favorite part about working at NOAH: Getting to work with our patients! I love the diverse community we serve and teaching the importance of nutrition for overall health and feeling your best.
Favorite food(s): I can never say no to pizza, especially with pineapple. I love vegetables as well, especially colorful, crunchy salads, roasted Brussels sprouts, and baked potatoes with all the fixings. I never ate vegetables as a kid, but now I love them. The easiest method to cooking vegetables (and enjoying them!) is to find spices you like, toss in a bit of olive oil, and roast "low and slow" in the oven.
Favorite hobbies: I love to go hiking with my husband and my dog. One of my favorite hikes was up the tallest mountain in Arizona, Mt. Humphrey! I also love cooking and baking, refinishing furniture, and traveling the world. We visited China last year, but next on the list would be South America, Japan, and Ireland.
Random fact about me: I love superheroes, especially Wonder Woman and the X-Men. If you visit my office at the Palomino clinic, you'll find a lot of superhero decorations!
Our Care Team at NOAH are here to help you create and manage your healthy lifestyle habits. Need help setting or sticking to your goals? Call 480-882-4545 today! #NationalNutritionMonth #gethealthy #mealprep #NEDA #IChooseNOAH
https://noahhelps.org/wp-content/uploads/2018/03/NOAH_Cuttingboard_final.jpg
533
800
admin
https://www.noahhelps.org/wp-content/uploads/2019/06/NOAH_LOGO_CMYK_shadow_325_weblogo.png
admin
2018-03-08 13:53:27
2019-09-16 14:35:26
Get to Know Your Nutrition Team!