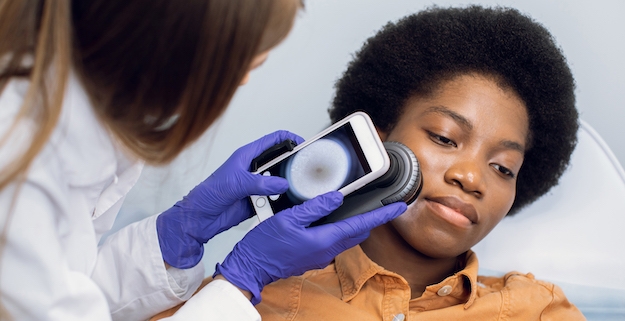 How Important is it to See a Dermatologist?
NOAH is focused on providing primary care to our patients, but we often refer patients to specialists for secondary care specific to a medical concern or screening. One of those referrals is for a yearly exam with a doctor who specializes in our bodies' largest organ – our skin! The Skin Cancer Foundation recommends people of average risk for skin cancer see a dermatologist once a year for a full-body skin exam. The purpose of this exam is to screen for skin cancer by looking for and testing unusual spots on the skin; and to identify and treat any other skin conditions.
What to Expect During Your Annual Exam
You'll likely be asked to change into a hospital gown; removing all of your clothes except for your underwear.
The dermatologist will visually scan your entire body for any abnormal spots or skin conditions.
Your doctor will even check hard to see places like your scalp, behind your ears, and in-between your toes.
Some doctor's will use a dermatascope to magnify your skin and see through the first few layers.
If you are at average risk for skin cancer and don't have any other skin conditions or concerns, your exam may take as little as ten minutes.
Tips for a Successful Exam
It's a good idea to do a self-exam before your appointment. If you find any suspicious spots, you can point those out to your doctor right away. Also check your genital area for any spots or skin conditions you may want to address.
Skip the makeup (or be prepared to remove it) but do keep your normal cleansing/moisturizing routine. It's best for your doctor to see how your skin normally appears. If there's excessive dryness, etc. they may recommend a change.
Remove nail polish from your fingers and toes, skin cancer can form there too.
Wear your hair down or in a loose ponytail so it's easy for the doctor to examine your scalp; and remove earrings for better visibility behind your ears.
What Happens if you have an Abnormal Spot?
If the dermatologist finds anything that looks suspicious, part or all of the spot will be removed and sent to a lab for testing.
If the spot is determined to be skin cancer, the doctor will discuss treatment options with you. Treatment can be as simple as removing the entire spot plus a small margin around the edges if it's caught early.
Do Your Part to Prevent Skin Cancer
May is Skin Cancer Awareness Month but skin cancer prevention is important year-round, especially in Arizona.
Reduce your exposure to the sun; especially between 10 a.m. and 4 p.m. when UV rays are strongest.
Use broad spectrum sunscreen with an SPF of 15 or higher as part of your daily skin care routine.
If you are spending time in the sun, try to reduce the amount of skin exposed by wearing long sleeves, a wide-brimmed hat, etc.
Be sure to reapply sunscreen throughout the day if you are outside for a long period of time.
Check the label on waterproof sunscreen and reapply as directed.
Opt for sunless tanner over indoor tanning beds.
Check your body monthly and contact your doctor with anything that concerns you. Here's a handy Body Mole Map from the American Academy of Dermatology Association that guides you through a self-exam, reminds you what to look for, and even provides space to indicate the location and description of abnormal findings.
https://noahhelps.org/wp-content/uploads/2022/05/Dermatologist-.jpg
417
625
Christina Henning
https://www.noahhelps.org/wp-content/uploads/2019/06/NOAH_LOGO_CMYK_shadow_325_weblogo.png
Christina Henning
2022-05-09 13:07:36
2022-05-09 13:11:32
How Important is it to See a Dermatologist?