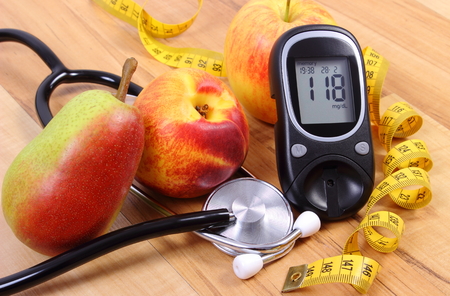 I didn't even know what to eat for dinner
I haven't been feeling my normal self lately so I decided to schedule a check-up at NOAH Balsz Health Center. It had been a couple years since my last appointment and I had been feeling rundown and constantly thirsty. After a few tests and a follow up visit from my doctor and RN care coordinator, I was told I have diabetes. As the provider talked to me about my diagnosis, my head spun and the only response I could come back with was, "I don't even know what to eat for dinner?" All I remember from that appointment was hearing that I was going to have to change my lifestyle immediately.

Before leaving the room, I was told to schedule bi-monthly appointments with my RN care coordinator and the behavioral health consultant to discuss my diabetes diagnosis, medication management, and lifestyle changes. Scared and feeling lost, wondering where to start, I received some helpful tips from the care team about meal plan ideas and medication management that were easy enough for me to follow. After 3 months, I feel empowered to play an active role in my diabetes and self-care. Thanks to the NOAH care team, I was able to make the necessary lifestyle changes and no longer feel terrified of my chronic disease.
– A recently diagnosed diabetic patient.
Diabetes is an increasingly common diagnoses in America. Complex and pervasive, it often results in psychological, social and emotional complications and often times corresponds with obesity, high blood pressure and high cholesterol. A patient's culture, family and friends and the community they live in plays a key part of their care plan and assists the patient in changing their routine.
Setting this foundation for newly diagnosed diabetics begins when patients are comfortable with their care team and get to play an active role in their own care plan. The RN care coordinator acts as a patient navigator, directing patients to needed clinical services, answering questions and concerns patients may have about their care plan and ensuring patients fully understand their diagnosis as they adjust to their new lifestyle. Alongside the behavioral health consultant and dietician, they help patients overcome barriers to success, access beneficial community resources and provide tools to cope with diagnosis-related stress.
"After providing resources and a diabetic management plan, my patients are able to self-manage their chronic condition at home through diet and exercise with confidence."
Brittainy, RN Care Coordinator, NOAH Balsz Health Center
Stories like these are important reminders that NOAH's care team focuses on when patients are newly diagnosed with diabetes. The impact on the patient once diagnosed, the important role of family and friends and the consideration of social, cultural and community context is the approach our clinicians take when it comes to patient care. An approach that yields healthy outcomes!
Newly Diagnosed Diabetics – 6 Topics your care team should review with you!
Help you understand exactly what diabetes is and how it affects your body.
Explain how diabetes medications work.
Figure out what types of foods are best for you and how to plan meals that fit your life and budget.
Determine the best type of glucose monitoring device for your specific circumstances.
Suggest charts, apps and other tools to provide reminders and help you track your progress.
Offer tips to help you cope with stress and solve problems as they arise.
https://noahhelps.org/wp-content/uploads/2017/01/Diabetic_food_glucose_meter.jpg
296
450
admin
https://www.noahhelps.org/wp-content/uploads/2019/06/NOAH_LOGO_CMYK_shadow_325_weblogo.png
admin
2017-01-21 00:07:24
2019-08-28 16:12:38
I didn't even know what to eat for dinner