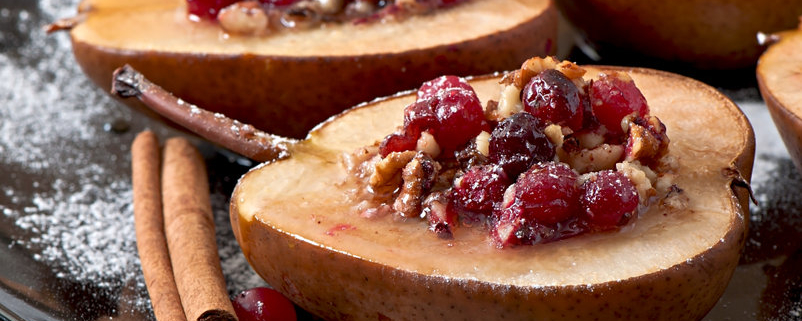 Baked Pears with Cranberries, Honey and Walnuts
The secret to choosing the right pear for baking is to go for the ones that are larger in volume, hold their shape after baking and taste, well, like a pear. Such as Bosc or Anjou pears. Bosc are a bit more oblong in shape, juicy but still have a little crunch and best is they retain their flavor and shape when cooked. Anjou pears are great 'all-purpose pears' and are available all year due to their versatility and long shelf life. When baked, they can withstand high temperatures and develop a sweet buttery, yet slightly firm flesh, that is perfect for this recipe.
Prep Time5 mins
Cook Time25 mins
Total Time30 mins
4
pears
use Bosc, Anjou or Bartlett
½
cup
walnuts
finely chopped
½
cup
maple syrup
or local honey
1
tbsp
lemon juice
fresh squeezed
cinnamon sticks
for garnish
1
tsp
powdered sugar
for garnish
1
Preheat oven to 375 degrees F. Grab a baking sheet and line with parchment paper and set aside.
2
Rinse, dry and cut pairs in half lengthwise. Carefully core each pear with a small spoon. Slice a small piece off the backside of the pear to help it lay flat on the baking surface. This is a great trick to keep the filling from falling out.
3
In a small bowl add the rest of the ingredients and stir to incorporate well. Using the same spoon you used to core the pears, place a spoonful of mixture into the hollowed out area of each pear.
4
Bake for 25 Minutes or until the pears are tender.
5
Please pears on a large decorative plate and sprinkle a light dusting of powdered sugar and add a few cinnamon sticks scattered about for garnish.
https://noahhelps.org/wp-content/uploads/2021/09/Baked-Pears-with-Cranberries-Honey-and-Walnuts.jpg
597
802
Tiffany Jewell
https://www.noahhelps.org/wp-content/uploads/2019/06/NOAH_LOGO_CMYK_shadow_325_weblogo.png
Tiffany Jewell
2021-09-16 13:03:40
2023-02-16 13:57:52
Baked Pears with Cranberries, Honey and Walnuts