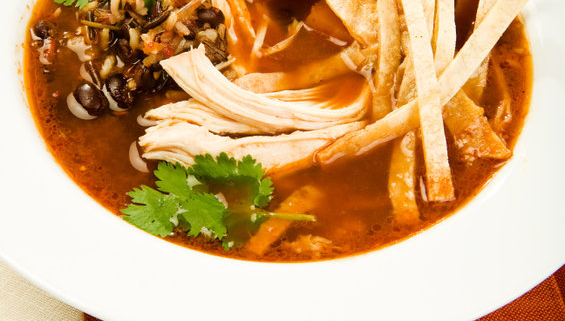 Chipotle Chicken Sweet Potato Soup
Nothing beats a chilly Fall night other than a warm blanket right? Nope - there is one thing and it's a big hot bowl of soup filled with sweet potatoes, tender chicken, and quinoa. Add a little kick from a chipotle chili and you've got just the thing to keep you warm from the inside out.
Prep Time15 mins
Cook Time35 mins
Total Time20 mins
1
white onion
peeled and finely chopped
15
oz
can black beans
rinse and drain
1
whole (pre-cooked) rotisserie chicken
shredded
12
chipotle chili's
in adobo sauce
4
cups
sweet potato
peeled and cut into dice size pieces
¾
cup
quinoa
plain white or tri-color is fine
6
cups
low sodium chicken stock
you can also use water
4
yellow or white corn tortillas
cut into thin strips
½
cup
fresh cilantro leaves
lightly chopped
1
Preheat oven to 200 F degrees. Toss tortilla strips in 1 tbsp. olive oil in bowl and set aside. Cover a baking sheet with parchment paper and lay the tortilla strips out evenly on the baking sheet. Bake for 8 minutes, turning over after 4 minutes to brown both sides.
2
Heat the remainder of the oil in a large saucepan with a lid over high heat. Add onion, garlic, chicken, chipotle chili and sweet potato. Stir to incorporate and keep contents from browning too quickly. Add shredded chicken and stir for 10 Minutes or until the chicken is brown and the sweet potatoes are beginning to soften.
3
Add tomato paste and stir to incorporate for about 2 minutes. Add quinoa and liquid. Cover and bring soup to a boil.
4
Reduce heat to a simmer and cook for 15 Minutes or until quinoa and sweet potato are tender.
5
Divide soup into bowls and top with cilantro leaves and a few tortilla strips.
6
NOTE: Other great toppings to have on hand are Greek plain yogurt, fresh lime wedges and avocado slices.
https://noahhelps.org/wp-content/uploads/2021/09/Chipotle-Chicken-Sweet-Potato-Soup.jpg
848
565
Tiffany Jewell
https://www.noahhelps.org/wp-content/uploads/2019/06/NOAH_LOGO_CMYK_shadow_325_weblogo.png
Tiffany Jewell
2021-09-15 17:15:50
2021-09-15 17:17:31
Chipotle Chicken Sweet Potato Soup