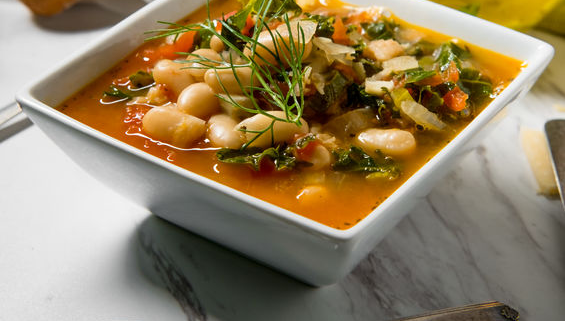 Category
Soup
Difficulty
Intermediate
A simple inexpensive soup for a hearty meal that will warm you up from the inside out! Add a slice of crusty whole-wheat bread and a drizzle of olive oil to complete this tasty meal, great for lunch or dinner.
Prep Time30 mins
Cook Time50 mins
Total Time1 hr 20 mins
1
lb
dried cannellini or great northern beans
2
tbsp
chopped fresh garlic
6
cups
low-sodium chicken or vegetable broth
(homemade is best)
1
parmesan rind or grated parmesan
1 x 2 inches or one Tbsp. grated
6
cups
chopped fresh kale
remove ribs first
2
tsp
fresh minced rosemary
just leaves, toss stems
2
tsp
fresh minced oregano
just leaves, toss stems
3
tbsp
white-wine vinegar
1
Place dried beans in large bowl and pick over and sort out any bits (non-bean related). Rinse under cold water and drain. Add 3 quarts cold water, cover and soak at room temperature for 8-20 hours. Drain and rinse beans.
2
Heat 1 Tbsp. oil in a large Dutch oven or pot on medium heat. Add onion, carrot and celery and cook until starting to soften. Stir in garlic and cook until the onion is translucent and garlic is fragrant. Approximately 8-10 minutes.
3
Stir in broth, soaked beans, bay leaves and parmesan rind. Increase heat to high and bring to a boil, cooking for 5 minutes. Reduce heat to low and partially cover. Simmer until the beans are slightly tender, 45-50 Minutes. (If using canned beans, simmer time is only 15-20 minutes).
4
Stir in kale, tomatoes, rosemary, oregano, vinegar, salt, and pepper.
5
Before serving, discard bay leaves and parmesan rind (if used). Ladle soup into a bowl and drizzle remainder of olive oil over the top. Serve with a side of whole-wheat crusty bread and enjoy!
6
TIP 1: To quick-soak beans place them in a large saucepan with enough cold water to cover them by 2 inches. Bring to a boil and cook for 2 minutes. Remove from heat, cover and let stand for 1 hour.
7
TIP 2: A secret for any soup base, keep your parmesan cheese rind after you've shaved all the cheese off. I like to cut in 1 by 2 inch cubes and store in a sandwich bag, label and keep in the freezer. Add to any soup when you add water/broth and take out just before serving.
8
NOTES: You can also use canned, rinsed cannellini beans if you have them on hand.
https://noahhelps.org/wp-content/uploads/2019/08/Tuscan-White-Bean-Soup.png
544
565
Tiffany Jewell
https://www.noahhelps.org/wp-content/uploads/2019/06/NOAH_LOGO_CMYK_shadow_325_weblogo.png
Tiffany Jewell
2019-08-27 12:03:27
2023-01-10 10:07:45
Tuscan White Bean Soup