By Taylor Hoeg, MS, RDN | Registered Dietitian Nutritionist
Potatoes are the star ingredient in a wide variety of dishes. Just some of the dishes utilizing potatoes include hashbrowns, mashed potatoes, baked potatoes, potato salad, potato pancakes, potato wedges, and gnocchi. Dishes containing potatoes are served during celebrations, family gatherings and holidays. If you are anything like me, potatoes can bring a sense of nostalgia. When I think about potatoes, I think about warm summer nights, waiting out by the grill for the baked potatoes to be done. I think about various thanksgivings, and the debate my family always had about mashed potatoes vs. whipped potatoes. I think about my high school graduation party, and the happiness I felt eating my mom's blue cheese potato salad. For many others and me, potatoes bring a sense of joy and are connected to memories. But as a dietitian, I have seen firsthand how potatoes, like many other foods, are misjudged. If potatoes are such a common food, why are they often misunderstood? To answer this question, we first must understand, what is a potato?
What is a Potato?
I am often asked, what is a potato? Is it a vegetable? Is it a carb or carbohydrate? Well, the short answer is both!
A vegetable is defined as "a usually herbaceous plant (such as the cabbage, bean, or potato) grown for an edible part that is usually eaten as part of a meal".
A carb or carbohydrate is defined as "a type of macronutrient found in many foods and beverages. Most carbs occur naturally in plant-based foods, such as grains".
Potatoes fit into both categories. Potatoes are considered a tubers root vegetable, which means a potato is the thick root of the solanum tuberosum or potato plant. The tuber is used by the potato plant to store carbohydrates and nutrients. This is why the potato is high in carbohydrates and various other micronutrients.
What is in a Potato?
Potatoes have both soluble and insoluble fiber. Soluble fiber has been linked to lowering blood cholesterol and blood glucose. Insoluble fiber is bulky and moves through the digestive system, helping to maintain regular bowel movements and prevent constipation.
Potatoes are high in Vitamin C. This is a water-soluble vitamin with a variety of health benefits. Vitamin C is an antioxidant and plays an important role in preventing certain cancers, cardiovascular disease and decrease inflammation. Also, Vitamin C plays an important role in the immune system, wound healing, and the absorption of dietary iron. Potatoes are also high in potassium. This is a mineral that is needed for nearly every bodily function. Just to name a few, potassium is necessary for kidney, heart, muscle, and nerve function.
Are Potatoes Unhealthy?
For most individuals, potatoes can be part of a healthy and balanced diet. As stated previously, potatoes contain a variety of nutrients linked to health benefits.
BUT, potatoes are often linked to the sources of saturated fat they are prepared in or topped with. Potatoes are often fried to create chips or fries, cooked with butter, or topped with cheese, butter, sour cream, and bacon. While fat is a healthy part of the diet, high amounts of saturated fat can be linked to elevated cholesterol and increase the risk of heart disease. That being said, potatoes themselves are not unhealthy. So, get creative! Look for a variety of cooking methods and toppings for your potatoes.
Where Can Potatoes be Found?
For those of us living in Arizona, red skin potatoes and russet potatoes are in season from April to July. Keep an eye out for these potatoes at your local farmer's market!
Otherwise, a variety of potatoes can be found in most grocery stores. Potatoes are grown in nearly every state in the United States. So, they are not in short supply.
Potato Recipe Ideas
Oven Roasted Potatoes and Vegetables
These potatoes can be enjoyed at breakfast, lunch and dinner! They are also delicious as leftovers.
6 servings
Time: 1 hour, 10 minutes
Ingredients:
4-6 medium russet potatoes, diced (about ½")
1 medium zucchini, diced (about ½")
1 large red bell peppers, diced (about ½")
1 large yellow, diced (about ½")
½ large red onion, diced (about ½")
2 cloves of garlic, minced
Instructions:
Preheat oven to 400 degrees F.
Combine produce (potatoes, bell peppers, zucchini, onion, garlic) in a large bowl, with olive oil and seasoning, and combine.
Place produce on baking sheet.
Place baking sheet in oven for 45-60 minutes (or until produce is tender), stirring after 30 minutes.
Enjoy!
Blue Cheese Potato Salad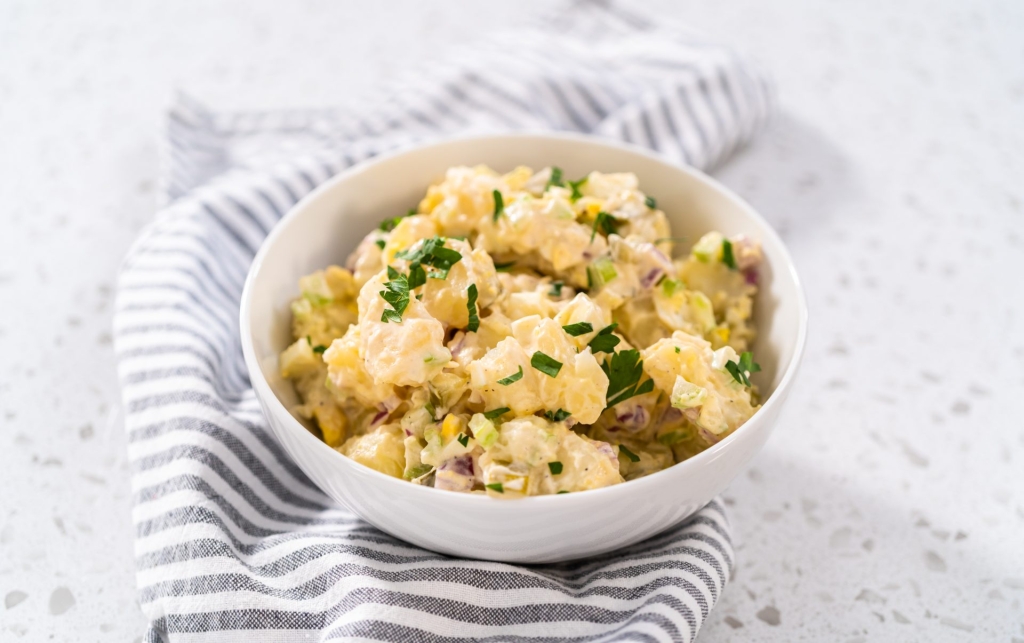 12 Servings
Time: 45 minutes
Ingredients:
Potato Salad
3 lbs. red skin potatoes, diced (about ½")
3/4 large white onion, diced
Blue Cheese Dressing
1/2 cup plain Greek yogurt
1/4 cup mayonnaise (can use low fat)
Instructions:
Preheat oven to 450 degrees F.
In large bowl, combine potatoes, 3 tbsp olive oil, garlic, salt and pepper.
Arrange potatoes in single layer on baking sheet, and place in oven for 35 minutes, or until potatoes are tender.
Meanwhile, in large skillet place 1 tbsp olive oil, and onions on low-medium heat for 30 minutes, stirring occasionally. After 30 minutes add balsamic vinegar. Continue cooking for 1-2 minutes, or until vinegar evaporates.
Dressing: In small bowl, combine Greek yogurt, mayonnaise, blue cheese, sour cream, horseradish, and pepper.
Lastly, combine potatoes, onions, and dressing.
Enjoy!
Have questions about your diet? Schedule an appointment with a NOAH Registered Dietitian today to help kick-start your health journey.
https://noahhelps.org/wp-content/uploads/2023/03/raw-potatoes-and-vegetables-2021-08-26-15-46-30-utc.jpg
1048
1920
Maya Wooden
https://www.noahhelps.org/wp-content/uploads/2019/06/NOAH_LOGO_CMYK_shadow_325_weblogo.png
Maya Wooden
2023-03-31 15:12:27
2023-04-11 11:10:52
Let's Talk About Potatoes