Honey bees are oftentimes overlooked and feared, but these lovely creatures play a crucial role in our ecosystem? Honey bees are responsible for pollinating or transferring pollen grains from the male anther of a flower to the female stigma. Pollination is essential to the production of approximately 90 crops¸ including many fruits and vegetables that we eat every day.
Honey bees are the most common pollinator. About one-third of the food eaten by Americans comes from crops pollinated by honey bees, including apples, melons, cranberries, pumpkins, squash, broccoli, and almonds, to name just a few (1).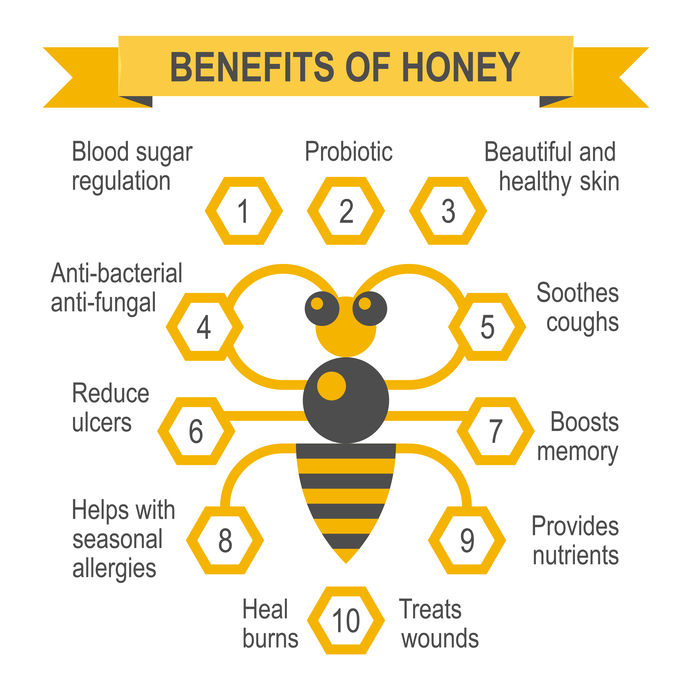 How to Celebrate
Buy local honey! Often times commercially produced honey provides cruel treatment to the bees, like clipping the queen's wings and taking too much of their honey that they need for food.
Flavors of honey vary depending on the variety of flowers and nectar available to the bees. Wildflower, clover, alfalfa, lavender, orange, and chestnut are just a few to choose from. 
Use honey in cooking, baking, making hot beverages, and more! Find some great recipes to use or substitute honey.
Collect and spread local wildflower seeds in your yard/garden to help promote honey bee pollination.
Replace your usual sweetener with local honey. Not only are you supporting your community by buying local, but you're supporting reaping all the benefits honey has to offer which is much better than consumer processed sugars.
Give the gift of honey by purchasing jars from your local honey business and add a cute ribbon and card to them. Maybe even use them in a gift basket and give to neighbors, family and friends.
Alternative to Honey
If unable to find honey from a local famer or famers market, choosing options such as maple syrup or agave are great alternatives. Remember to be mindful of using all of these as they may have added sugars and could have an impact on your blood sugar.
Infants and honey. Honey may contain small amounts of botulism, a toxin produced by the bacteria Clostridium botulinum, that may affect infants under 1 year of age. It's best to not give infants honey or even any processed products, like crackers or cereal, made with honey.
https://noahhelps.org/wp-content/uploads/2020/08/Happy-World-Bee-Day_Aug2020-image.png
903
903
Tiffany Jewell
https://www.noahhelps.org/wp-content/uploads/2019/06/NOAH_LOGO_CMYK_shadow_325_weblogo.png
Tiffany Jewell
2020-08-13 10:14:41
2020-10-29 11:17:14
How to Celebrate Honey Bees Today by The Nutrition Experts