Call, text, or chat the National Suicide Prevention Lifeline at 988 or 988lifeline.org if you or a loved one are experiencing thoughts of suicide.
According to the National Alliance for Mental Illness (NAMI), one in five individuals in the United States suffers from mental illness.  Yet, despite how common it is to suffer from this illness, many people feel uncomfortable reaching out for help. Medical providers see many patients struggling to deal with depression, anxiety, and mood disorders. It is important to see this topic more openly discussed in families and communities.
Mental Health Background
There is no shame around being diagnosed or treated for a mental health condition. There are more than 51 million U.S. adults living with a mental illness, so these individuals are not alone.
Our brains are an important part of our body, and we often forget that it plays a key role in our everyday health. Our brain controls our emotions, and those emotions can impact physical health. People with a serious mental illness are at an increased risk for chronic diseases, metabolic, and cardiac conditions.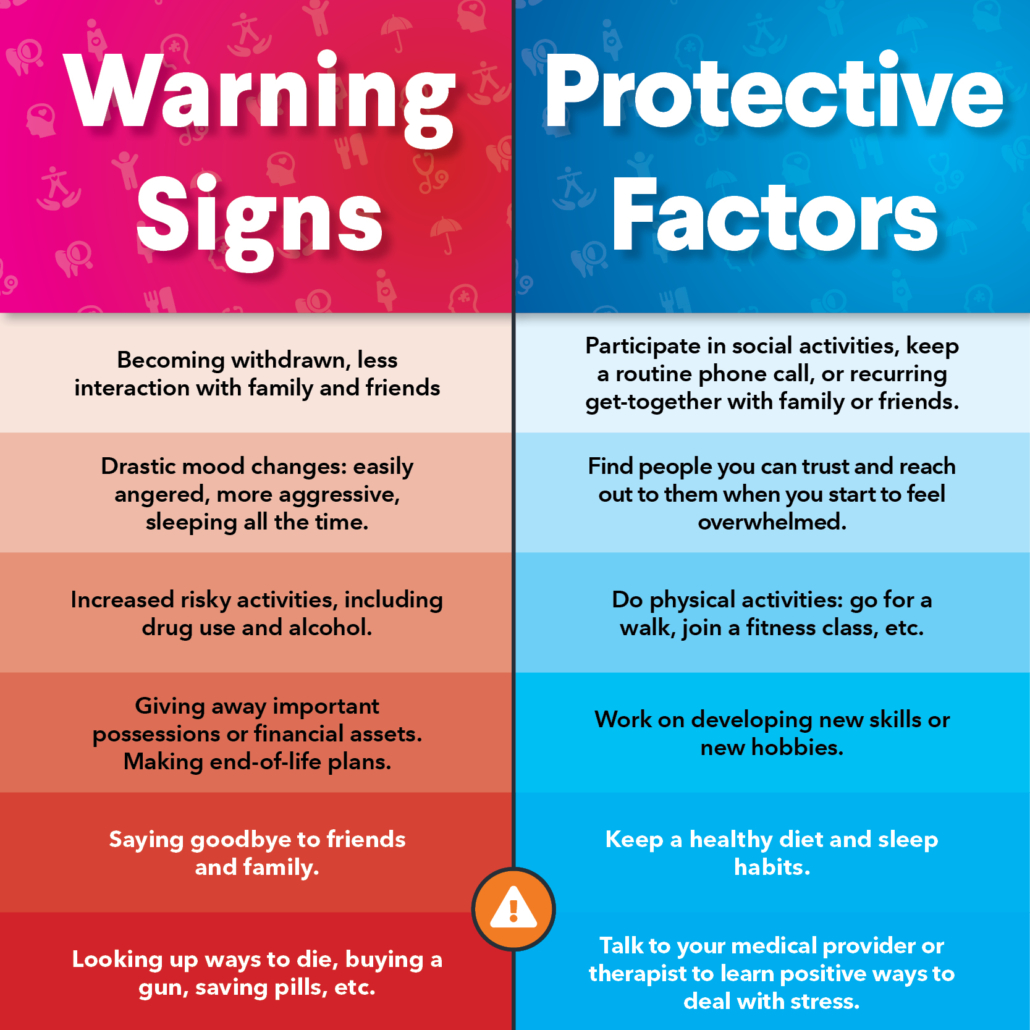 Suicide Awareness – Signs and Symptoms
Our emotions can be so strong that they disrupt our daily lives. Sometimes this makes life seem very overwhelming. Someone struggling with their emotions might start to have feelings of worthlessness or start to wish they didn't exist. When these overwhelming emotions snowball, the person can feel so trapped that they think there is no way out. This can lead to thoughts of ending their own life.
It is important for both the individual experiencing these thoughts and feelings, and those around them to know the warning signs of suicide and act on ways to help. Learn about suicide awareness now to save a life.
If you or someone you know is experiencing a mental health crisis, call, text or chat the National Suicide Prevention Lifeline.
For non-urgent needs, consider scheduling an appointment with a NOAH counselor.
https://noahhelps.org/wp-content/uploads/2021/09/suicide-prevention-awareness.jpeg
1243
1920
Katy Reeve
https://www.noahhelps.org/wp-content/uploads/2019/06/NOAH_LOGO_CMYK_shadow_325_weblogo.png
Katy Reeve
2023-09-22 10:38:00
2023-09-29 11:52:50
September is National Suicide Prevention Awareness Month