7 Tips to Improve Your Child's Sleep Hygiene by Dr. Amit Jain, Pediatrician
Do you wonder if your children are getting enough sleep? Are they going to bed early enough? It is well known that in today's hustle and bustle of daily life, sleep tends to get compromised for everyone, children and adults alike. Sleep is essential to good health and has many benefits from allowing one's brain to process and store in memory what was experienced and learned that day to rejuvenating so that they may be ready for the day ahead with full mental functionality. Without enough sleep, one may suffer consequences of sleep deprivation including difficulty concentrating, inattention, headaches, poor behaviors / irritability, obesity, and depression. With enough sleep, children may be able to better concentrate, have more energy, thus decreasing the risk for obesity, have better mental health, and even a healthier immune system.
As your children grow, their sleep needs will vary. The American Academy of Sleep Medicine has provided some helpful guidelines regarding how much sleep a child needs as they grow through various stages of their development.
This chart includes any naps a younger child may take during the day, as it is a total within a 24-hour period: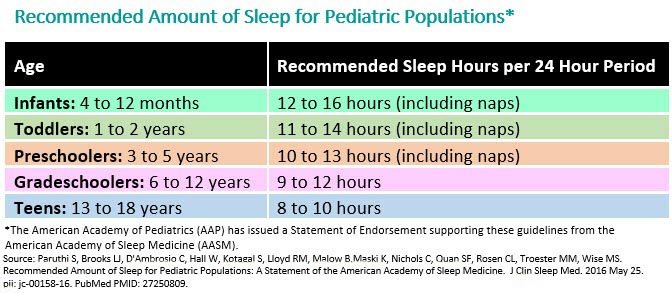 Is your child getting enough sleep? Our NOAH family wants to ensure your children are sleeping well, as it is an important component of their overall health. Below are some tips on improving your child's sleep hygiene, so they may get a good night's rest and stay healthy:
Keep a daily routine, including sleep and wake times, mealtimes, nap times, and play times. This can help the brain get into sleep mode when it is time for a nap or bedtime, as it helps with a smooth transition to sleeping. The disruption to this schedule should be kept to a minimum over the weekend and breaks as well.
Establish a good routine of daily physical activity, including getting fresh air and participating in age-appropriate sports.
Keep an eye on that screen time! The American Academy of Pediatrics (AAP) recommends no more than 2 hours of screen time per day. This includes computers, phones, TVs, tablets, etc.
Along the same lines, all screens should be turned off at a minimum of one to two hours before bedtime as the blue light emitted from screens can prevent the brain from being able to fall asleep, or prevent the brain from getting to deeper stages of sleep until later in the night.
Limit your child's bed as a place to sleep, and only for sleep. Any playtime or homework should be done in a different environment, as a simple cue of getting into bed can help trigger the brain to start falling asleep.
Avoid any sugary beverages such as juices and sodas just before bedtime. This includes a bottle of milk, formula, or juice (only water if needed), as these beverages at bedtime can cause or increase the speed of baby bottle tooth decay.
Regarding bedtime routine, the AAP recommends the 4 B's of Bedtime:
Bathing: having this as a part of the normal sleep routine is a hygienic and soothing way to separate evening activities and dinnertime from bedtime and can help the brain get into bedtime mode if used as a part of a routine.
Brushing: Getting in the habit of brushing their teeth before bedtime can not only help prevent cavities and tooth decay, but also can help the brain transition into bedtime mode.
Books: This can stimulate excellent brain activity and it can also help cue the brain for bedtime if used as part of a daily routine.
Bedtime: To reiterate, none of the above are more important than enforcing a reasonable bedtime and encouraging your child to sleep at the same time every night.
If your child has trouble falling asleep or getting enough sleep, please reach out to your NOAH provider for further recommendations. We are happy to help promote this important concept in good health.
For additional information, visit the American Academy of Pediatrics website healthychildren.org.
(https://www.healthychildren.org/English/healthy-living/sleep/Pages/Healthy-Sleep-Habits-How-Many-Hours-Does-Your-Child-Need.aspx)
https://noahhelps.org/wp-content/uploads/2020/03/Dad-reading-to-kids-before-bed_Mar2020.jpg
536
894
Tiffany Jewell
https://www.noahhelps.org/wp-content/uploads/2019/06/NOAH_LOGO_CMYK_shadow_325_weblogo.png
Tiffany Jewell
2020-03-16 10:40:31
2020-03-16 10:52:46
7 Tips to Improve Your Child's Sleep Hygiene by Dr. Amit Jain, Pediatrician