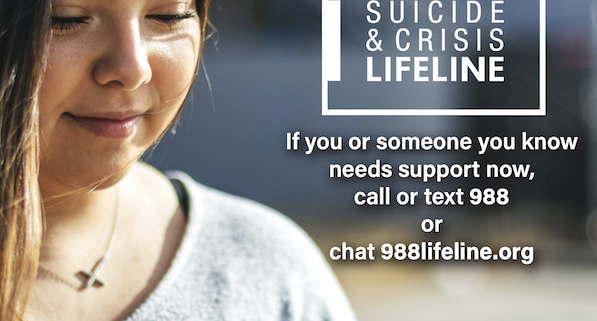 New 988 National Suicide Prevention Lifeline
The National Suicide Prevention Lifeline will have a new number beginning July 16. While help will still be available through the current ten-digit Lifeline, access to support through a new three-digit phone number, 988, will make it even easier to get support.
What Does the Lifeline Do?
For every one person who dies from suicide, 316 others seriously consider suicide but do not kill themselves (Substance Abuse and Mental Health Services Administration (SAMHSA)). In many cases, simply talking with a friend, family member, or counselor can mean the difference between life and death.
That's where the Lifeline comes in. Anyone can call, text or chat with a trained counselor through the Lifeline – 24 hours a day, seven days a week. The Lifeline is connected to over 200 accredited crisis call centers located throughout the country. When someone calls 988, their call is routed to a location near them. Being connected with someone local helps with finding resources for follow-up treatment and support. However, being part of a nationwide program ensures no call goes unanswered when local counselors are not available.
Why the Change?
The new number is easy to remember, quick to dial, and with a universal code like 911, is an an equally accessible option for life-saving care. As an alternative to calling 911 for mental health services, calls to the 988 Lifeline are expected to increase. Lifeline program administrator, Vibrant Emotional Heath, puts it simply, "When you've got a police, fire, or rescue emergency, you call 911. When you have an urgent mental health need, you call 988."    
How Can You Help?
Over 20 million calls have been made to the Lifeline since it became available in 2005. Although some initial support for 988 has come from federal, state and local resources, more help is needed to staff, fund, and raise awareness of the service.
With the anticipated increase in calls, SAMHSA is actively recruiting volunteers, interns, and employees to serve as crisis counselors and managers for the Lifeline. Check out the Lifeline website for more ways you can support your local crisis call center.
If you or someone you know is experiencing a mental health crisis, call, text or chat the National Suicide Prevention Lifeline.
1-800-273-8255 or 988
For non-urgent needs, consider scheduling an appointment with a NOAH counselor.
https://noahhelps.org/wp-content/uploads/2022/06/988-Image-for-Blog.png
597
597
Christina Henning
https://www.noahhelps.org/wp-content/uploads/2019/06/NOAH_LOGO_CMYK_shadow_325_weblogo.png
Christina Henning
2022-07-11 14:42:21
2022-07-11 14:42:22
New 988 National Suicide Prevention Lifeline