ACA Open Enrollment is Here!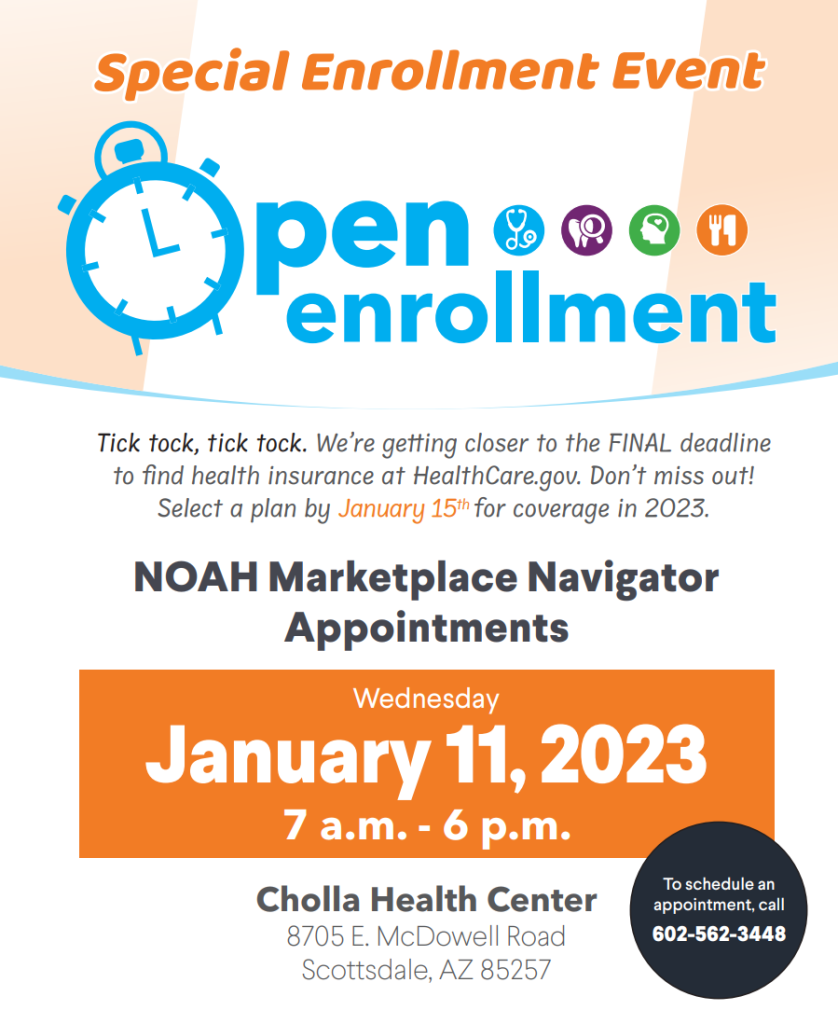 Having health insurance is one of the best ways to take care of yourself and your family. Whether it's through an employer, the Health Insurance Marketplace, or a public program like AHCCCS, there are options available to fit your lifestyle. Knowing the best plan for you and your family is important and NOAH is here to help during Open Enrollment.
With open enrollment you can enroll in a health insurance plan through the Health Insurance Marketplace anytime from Nov. 1 to Jan. 15. NOAH Community Resource Specialists can provide you with information about several different options and can help you complete paperwork to see what you qualify for.
The Health Insurance Marketplace
Often referred to as the Affordable Care Act (ACA) Marketplace or Obamacare, the Health Insurance Marketplace helps more Americans have access to health insurance. If you aren't covered under an employee plan or don't qualify for Medicaid/AHCCCS, you can get insurance through the Marketplace. In Arizona, there are several different providers to pick from, and different plans to fit your healthcare needs and finances. NOAH's Certified Application Counselors are available to help you understand your options and help with your enrollment in a Health Insurance Marketplace plan.
For health insurance coverage through the Marketplace, the enrollment deadline is January 15, 2023.
Other Health Insurance Options
Arizona Health Care Cost Containment System (AHCCCS) – AHCCCS is Arizona's Medicaid program. There are free and low-cost plans available for individuals and families. To qualify, you need to meet income requirements and be an Arizona resident. AHCCCS is open for enrollment year-round but does need to be renewed annually.
KidsCare – If parents are covered under an employer insurance, but kids are not, the KidsCare program can help! KidsCare, often referred to as CHIP (Children's Health Insurance Program) is offered through AHCCCS and is available for Arizona children under age 19 who meet the income requirement. Like AHCCCS, this health insurance is also open for enrollment year-round. If your family already qualifies for AHCCCS, you don't need to worry about the separate KidsCare coverage for your children.
If you've recently received a letter reminding of your recertification date for AHCCCS or KidsCare, or have had changes to work, income or other health coverage, NOAH Community Resources Specialists can help with your AHCCCS eligibility and enrollment.
Enrolling in an ACA Plan During Open Enrollment
Health insurance can be complicated. Whether you are enrolling in the Health Insurance Marketplace for the first time, are renewing your AHCCCS plan, or have changes to your policy, it is nice to have support along the way. NOAH has trained, certified team members here to help you with 2023 ACA/Obamacare/Health Insurance Marketplace Open Enrollment. To schedule an appointment call 480-882-4545, or fill out the form here and select "Community Resources – Eligibility" under Type of Appointment.
https://noahhelps.org/wp-content/uploads/2022/11/cheerful-hispanic-family-having-lunch-at-home-2022-03-31-23-19-10-utc-copy.jpeg
1281
1920
Katy Reeve
https://www.noahhelps.org/wp-content/uploads/2019/06/NOAH_LOGO_CMYK_shadow_325_weblogo.png
Katy Reeve
2022-11-01 11:43:00
2023-01-10 14:22:00
ACA Open Enrollment is Here!