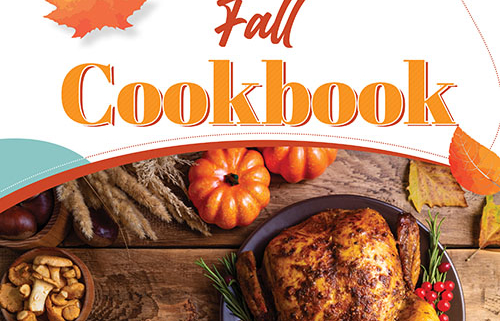 Get Cooking with NOAH's Fall Cookbook!
Enjoy the flavors of fall with NOAH's Fall Cookbook. Complied by NOAH's team of nutrition experts, these recipes are an exciting and delicious way to feel that fall coziness anytime of year.
From snacks to sides, and drinks to desserts, the Fall Cookbook has something for everyone. Recipes include dishes that are easy to put together and some that will expand your culinary skills in a good way.
Registered Dietitian Nutritionists at NOAH care about the food you eat, and how it tastes. That's why each recipe has been thoughtfully created and adapted to be healthy, nutritious, and something you will enjoy eating. So whether you or a loved one are looking for fall flavors that support heart health or a diabetic-friendly diet, or you just love food and want it to taste good and be good for you, these recipes have you covered.
Whatever you are craving, NOAH's Fall Cookbook has something you will love, and something you will love making again and again. Cozy up with a homemade pumpkin spice latte, whip up a batch of pumpkin gnocchi, or snack on some spiced pumpkin seeds.
If you have any questions about your healthy diet or ways to make changes, contact NOAH about our nutrition services.
https://noahhelps.org/wp-content/uploads/2021/11/NOAH_Fall_Cookbook.jpg
500
500
Katy Reeve
https://www.noahhelps.org/wp-content/uploads/2019/06/NOAH_LOGO_CMYK_shadow_325_weblogo.png
Katy Reeve
2021-11-08 09:00:54
2021-11-08 11:25:37
Get Cooking with NOAH's Fall Cookbook!